A BLUE COFFEE PLEASE - MILTON Coffee Roastery - Shunan - Yamaguchi
As a consumer, I am mostely interested by organic products and the new production or business model it explores. I was first brought to Milton Coffee 5 years ago on a trip to Shunan, in Yamaguchi province. White letters on a red background, the Milton Coffee Roastery logo and shop does not give much to notice. A trendy place, possibly a bit messy from all the post it advertising a "farandole" of sweet coffee temptations within a mix and match interior style that seems to have grown organically from its own success.
From a closer look at the coffee menu, ones notice its not only about organic coffee but about people. Producers are at the center of Daisuke Tanaka's business adventure. Japanese have the most valuable quality of being "curious" and Tanaka embodies this quality that keeps his ideas and creativity flowing.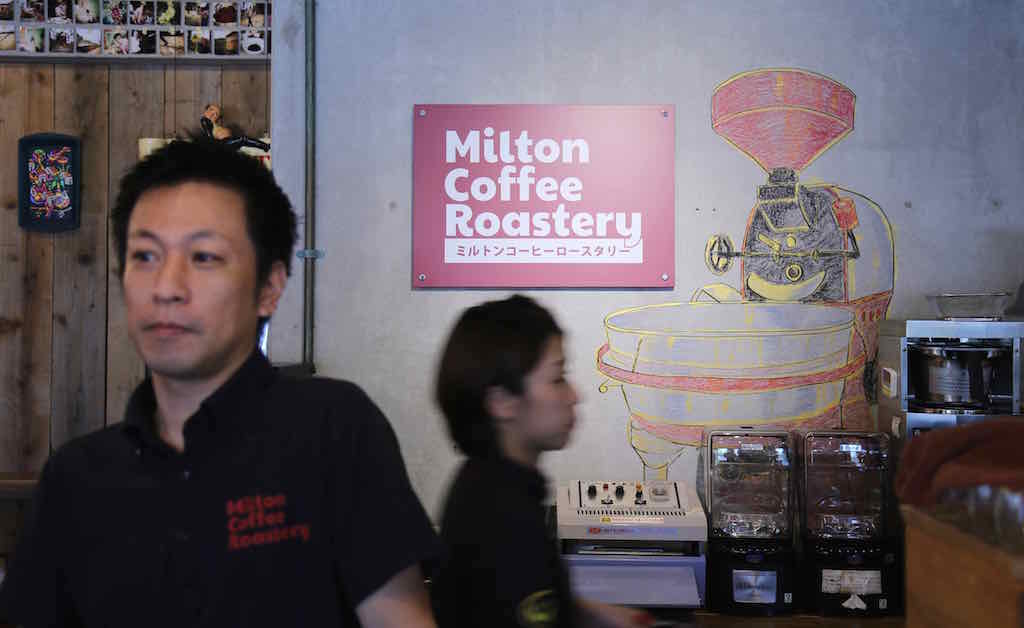 Daisuke was a stubborn teenager whom at age 12 threaten his parents to go study abroad. His shop owner mother and optometrist father did not know what to answer to this unusual request from a young college boy in short pants and baseball cap, thinking he would soon forget and stayed in the established path.
But Daisuke did not change his mind and at 13, bought a train ticket to Tokyo and went to the Australian Embassy to get the list of all high schools in Western Australia.
After sending 50 letters in his broken English, he received 2 invitations from schools that would not required entrance test.
At 14, during summer holidays, he set off for Brisbane to visit the schools. The first one, Warwick high school, lost in the bush, almost blew up his travel budget, so he decided to go ahead with it and the next year enrolled as a boarder, starting an independent life. He continued his study at Griffith Uni until coming back to Japan in 2008 with the global crises. Once again, he stressed his parents out with his project of starting a business and was once again turned down: too young, too in-experimented and with out financial help, Tanaka had to settle for a sales rep job in a large corporation.
MILTON COFFEE ROASTERY - SHUNAN - YAMAGUCHI
"BLUE ECONOMY" COMPANY AWARD
During his two years as a salary man, Daisuke never ceased to think about a business idea. Since success was compulsory, he started looking at the most traded commodities: After crude oil came coffee, a world he ignored except from the bad iced coffee he shared with friends during his Uni days. He decided to dig in and study more about it. He soon met a Japanese man, judge for the famous CUP OF EXCELLENCE - The Premium Coffee Competition & Auction, soon realizing that middle men controlled the market, purchasing year ahead the whole coffee production of all emerging producing countries, leaving farmers in their ignorance of the reality of the powerful trade they are part of.
Farmer's parcels qualities varies year on year, especially the ones in organic farm. Only middle men, so fare, had the knowledge to really determine the quality they purchased, separating the beans and entering competition & worldwide auctions to trade at full market price.
As a Blue Economy warrior, Tanaka, decided to help his ORGANIC COFFEE PRODUCERS - from Guatemala to Colombia, Ecuador to Nicaragua - by teaching them how to reconize the value of their crops by cupping - which is like Oenology in the world of wine - the best way to determine the true value of the bean. as well as purchasing directly to farms at market price value.
While MILTON Coffee is growing steadily, about to take off globally, his could also inspired others and change an industry where half of the market controls the other half by encouraging isolation and ignorance. Farmers need to know about the world growing trend for better quality coffee such as Arabica and organic beans, so they could leverage their production and lifestyle standards while also being beneficial for their society and its environment.
MILTON COFFEE ROASTERY
Miltoncoffee.com
Daisuke Tanaka
daisuke@uniginal.com
+81 8034055473