UNA CENA PER LA FELICITÀ - AU SUD DE LA MER DE SETO - YAMAGUCHI - JAPAN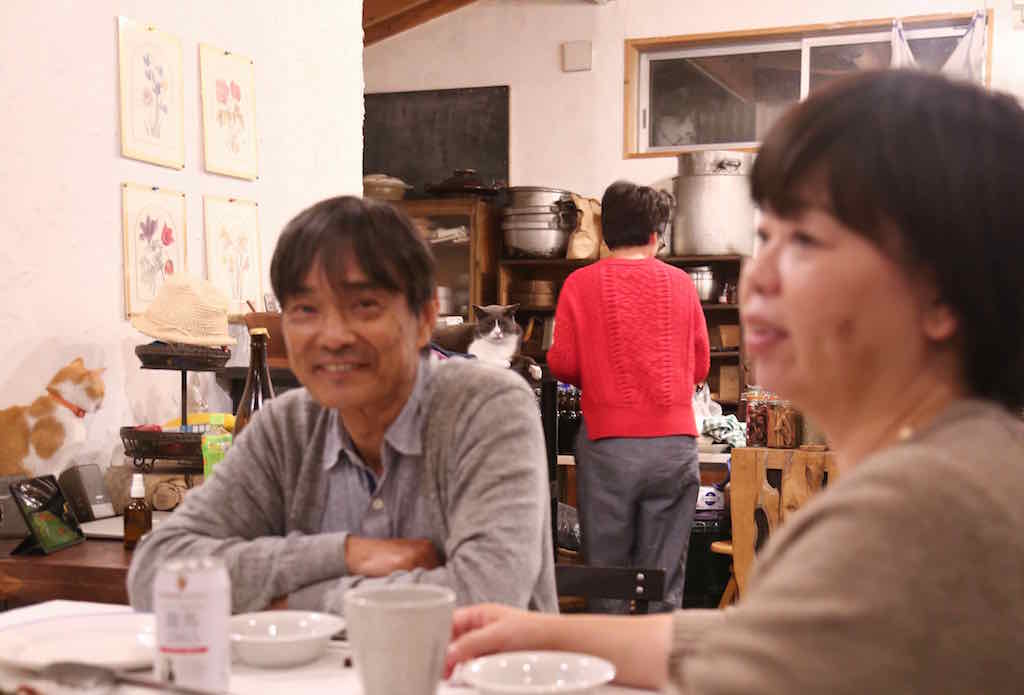 Sometimes chance brings men together as a vortex would attract ideas and actions of the same stream of thoughts. By inviting Stefano Bartolini, economist and writer, author of the famous MANIFESTO PER LA FELICITÁ, NAKANO Yoshihiro, professor at WASEDA University in Tokyo and himself author, revived the debate around possible futures or future prospects for this quite preserved region of Japan: SOUTH SETO NAI KAI (Japan Inner Sea) and lay the groundwork for a deeper reflection on economic development and the importance of preserving and strengthening the existing social bond and well-being of its inhabitants.

Parfois le hasard réunit les hommes comme un vortex attirerait les idées et les actions d'un même courant de pensées. En Invitant Stefano Bartolini, économiste et écrivain, auteur du célèbre MANIFESTO PER LA FELICITÁ, NAKANO Yoshihiro, professeur à WASEDA Université et lui même auteur, a relancé le débat autour des Futures possibles ou Futures souhaitables pour cette région du Japon, encore préservée et peu connue: le Sud de la Mer intérieur de Seto.
Yoshihiro a jeté les bases d'une réflexion plus profonde sur expansions économiques, ouverture au tourisme et l'importance du lien sociale pour préserver le bien-être des communautés et l'integrité des régions.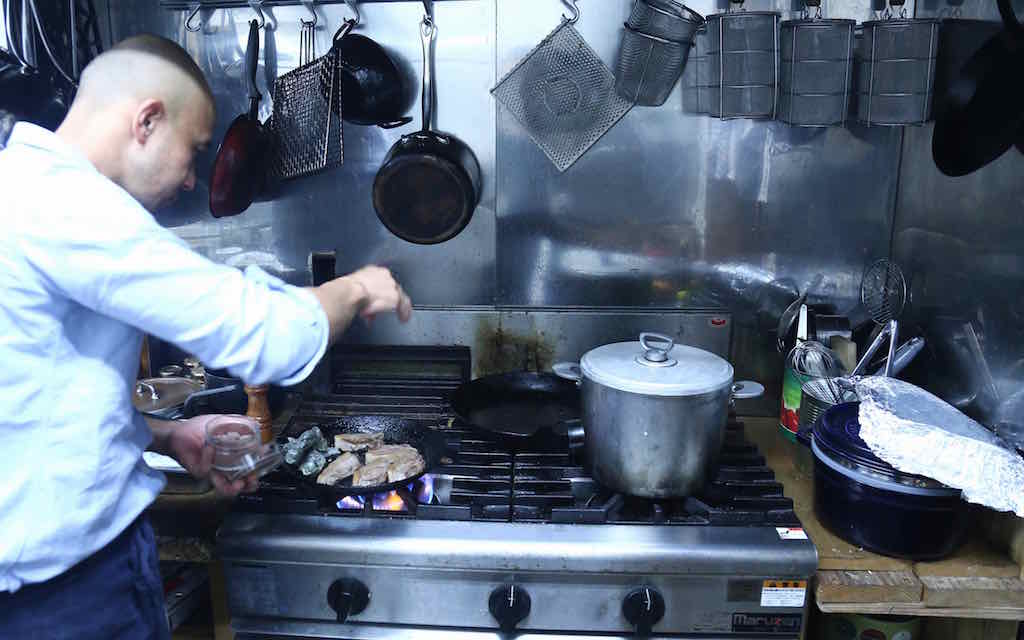 Chef Zama operating the kitchen, of the new eatumi 食堂 積 食堂 / eatumi Murozumi- shokudo, magnifying his local products and perfuming the air with their sents. Here, October is the season for sea urchins, Sawara (Spanish Mackerel), aubergines and squash, chestnuts and blueberries and Shimai new rice. An incessant renewal of locally cultivated savors that Tatsuya Zama reinvents as a feast of taste each season.

Chef Zama etait aux fourneaux du nouveau eatumi室積食堂 /eatumi Murozumi- shokudo, magnifiant ses produits locaux et parfumant l'air de leurs senteurs. Ici, Octobre est la saison des oursins, du Sawara (Spanish Mackerel), des aubergines et des courges, des marrons et des myrtilles et du Shimai le riz nouveau. Un renouvellement incessant de saveurs péchés et cultivés localement que Tatsuya Zama réinvente en fête du goût, chaque saison.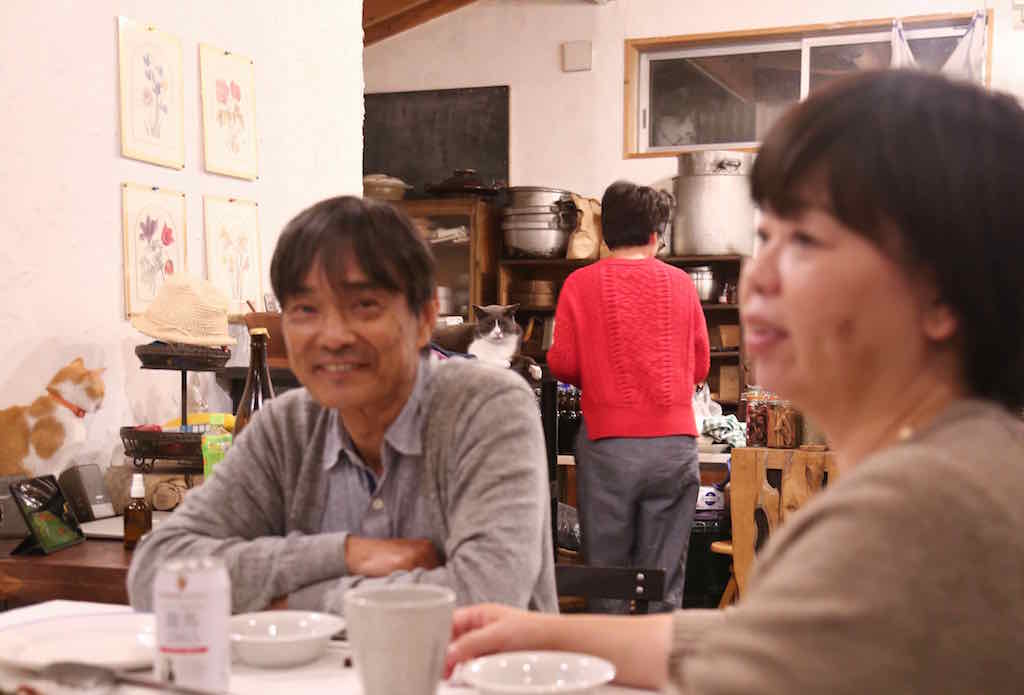 By inviting Stefano, we opened the debate around the tourist project - NU-PIEDS - by Kokusai Boueki group and how to open the region to tourism while avoiding a future exclusively focused on consumerism.
According to Stefano, our society is sick of consumerism that vampires even the most intimate of the human psyche; our society puts citizens under the control of an economic system based on individualism and which ultimately only creates frustration and develops inequalities. Our society, even though it is statistically abundant, has for its symptoms: the absence of happiness, the disintegration of the social bond, a febrile agitation which gives rise to stress and a crisis of self-esteem / to be followed

En recevant Stefano, nous ouvrions le débat autour du projet touristique - NU-PIEDS - du groupe Kokusai Boueki et la facon d'ouvrir la région au tourisme et éviter un avenir exclusivement axé sur l'avoir. Selon Stefano, notre société est malade du consumérisme qui vampirise jusqu'au plus intime de la psyché humaine ; notre société met les citoyens sous la dépendance d'un système économique fondé sur l'individualisme et qui au final ne crée que de la frustration et développe les inégalités ; notre société alors même qu'elle est statistiquement dans l'abondance a pour symptômes : l'absence de bonheur, le délitement du lien social, une agitation fébrile qui engendre le stress, une crise de l'estime de soi / à suivre
MANIFESTO PER LA FELICITÀ
by Stefano Bartolini
Designing our post-growth society and its policies for a pro-relational society Concevoir l'après-croissance et une politique pour une société pro-relationnelle.
by Yushihiro Nakano
An essay on our "Possible futures" based on Leo Leonni's book - The Biggest House in the World.

NAKANO Yoshihiro / Professor at WASEDA University. Also writer & translator, Yoshiro is interested in constructing a relational society. He recently published "Variations on a Snail Wisdom" An essay on how Society can move from Scarcity to Abundance"
WASEDA University / Waseda University is constantly innovating and challenging to make a continuous contribution to global society. http://www.waseda.jp
早稲田大学は、世界に貢献する大学であり続けるために、改革と挑戦を続けています。2032 年の創立150 周年に向けた新しいビジョン「Waseda Vision 150」では、「世界へ貢献する高い志を持った学生」「世界の平和と人類の幸福の実現に貢献する研究」「グローバルリーダーとして社会を支える卒業生」「アジアの大学のモデルとなる進化する大学」の4つを柱とし、グローバルな人材の創出と循環が繰り返される大学を目指して前進していきます。http://www.waseda.jp
Architect & Environmental Activist.
THE COMMON MARINE PLANTS OF SOUTHERN VIETNAM
by Shogo Arai - A complete encyclopedia of South China Sea, Central Vietnam Seaweed.